Australia is a country and continent surrounded by the Indian and Pacific oceans. Its major cities – Sydney, Brisbane, Melbourne, Perth, Adelaide – are coastal. Its capital, Canberra, is inland. The country is known for its Sydney Opera House, the Great Barrier Reef, a vast interior desert wilderness called the Outback, and unique animal species like kangaroos and duck-billed platypuses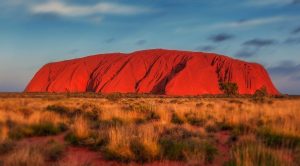 Being the oldest,flattest and driest inhabited continent with the least fertile soils Australia has a landmass of 7,617,930 square kilometers (2,941,300 sq mi). A mega-diverse country, its size gives it a wide variety of landscapes, with deserts in the center, tropical rain forests in the north-east and mountain ranges in the south-east.
The highest point on the Australian mainland is Mount Kosciuszko, New South Wales, at 2228 meters above sea level. The lowest point is the dry bed of Lake Eyre, South Australia, which is 15 meters below sea level.
The mainland and Tasmania are surrounded by many thousands of small islands and numerous larger ones. Nearly 40 per cent of the total coastline length comprises island coastlines. As an island nation, coastlines play an important role in defining national, state and territory boundaries.
Nearly 20 per cent of Australia's land mass is classified as desert. As well as having a low average annual rainfall, rainfall across Australia is also variable. The rainfall pattern is concentric around the extensive arid core of the continent, with rainfall intensity high in the tropics and some coastal areas.
Australia generates its income from various sources including mining-related exports, telecommunications, banking and manufacturing. Indigenous Australian rock art is the oldest and richest in the world, dating as far back as 60,000 years and spread across hundreds of thousands of sites.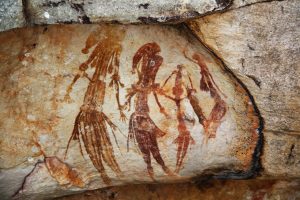 The climate of Australia is significantly influenced by ocean currents, including the Indian Ocean Dipole and the El Niño–Southern Oscillation, which is correlated with periodic drought, and the seasonal tropical low-pressure system that produces cyclones in northern Australia.These factors cause rainfall to vary markedly from year to year. Much of the northern part of the country has a tropical, predominantly summer-rainfall (monsoon). The south-west corner of the country has a Mediterranean climate.The south-east ranges from oceanic (Tasmania and coastal Victoria) to humid subtropical (upper half of New South Wales), with the highlands featuring alpine and subpolar oceanic climates.
Immigration to Australia
According to Wiki, Immigration to Australia began when the ancestors of Australian Aborigines arrived on the continent via the islands of Maritime Southeast Asia and New Guinea.
Permanent European settlement began in 1788 with the establishment of a British penal colony in New South Wales. From early federation in 1901, Australia maintained the White Australia policy, which was abolished after World War II. Since 1945, more than 7 million people have settled in Australia. From the late 1970s, there was a significant increase in immigration from Asian and other non-European countries, making Australia a multicultural country.
On August 7 2018, Australian Bureau of Statistics population clock reached 25 million, with 62% of the growth in the last ten years being a result of immigration.
Australia Immigration Basic Requirements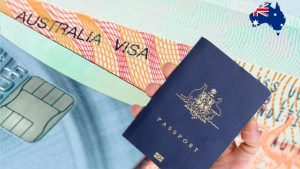 There are a number of basic requirements that applicants must meet in order to be considered for the GSM program. While this is not a comprehensive list of all eligibility criteria, it does give a good idea of the minimum standards applicants must meet:
Age – you must be under 50 years of age when you apply.
English language – you should have sufficient ability in the English language to work in Australia (at least at competent level). This is measured through the International English Language Testing System
Qualifications – you must have your skills and qualifications assessed by the relevant assessing authority as suitable for your nominated occupation.
Nominated occupation – when you apply you nominate a skilled occupation, which fits your skills and qualifications. Your nominated occupation must be found on the Skilled Occupations List.
Skills assessment – before you apply, you must have your skills assessed by the Australian assessing authority designated to assess your nominated occupation.
Health assessment – you must undergo a medical assessment, and show that you are in reasonably good health.
Character assessment – you must be of good character, usually this means a criminal record check.